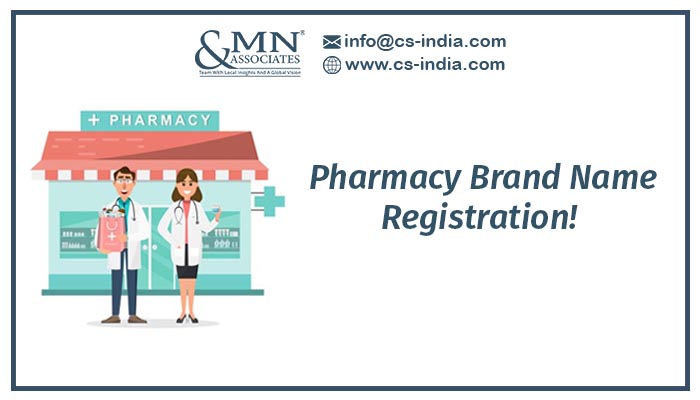 The Indian Pharma sector is the fastest-growing sector in the country. About 20% of the world's pharmaceutical goods are exported from India. Different world economies source India for both organic and inorganic pharmaceutical goods. But it is also true that in the drug business, Pharma Companies are facing stiff competition and their cost of marketing and branding is even increasing with each passing day.
The trademark registration for Pharma Company is one of the most effective tools used for securely enlarging the Pharma business in India. Trademark registration helps Pharma Companies to secure their goods and brand identity, getting replicated by spurious pharma dealers.
Trademark registration provides protection from the identity theft of business which normal business registration could not do. Trademark registration ensures registration of brand name, logo, mark, symbols of the company under government records and restraints its use by any of the third parties.
A trademark once registered can only be used with prior approval of the trademark owner.It will build value and because of this, potential investors will always be interested in whether a business has trademarked its name, key products or services. A trademark offers security to goods or services being offered registered under trademark legislation and guidelines issued for its use, reuse, assignment, etc. Once a trademark is registered, if it is copied without permission of the owner, severe penalties can be imposed by the trademark authorities.
Procedure for Trademark Registration of Pharma Company 
Trademark can be registered by a Pharma company name for its logo or sign or symbol to be imprinted on products or any medical equipment or in the documentation for goods provided and/or services rendered provided through the company.
Documents required for Trademark registration of Pharma Company
Authority letter for authorized person of the company;
Details about the company;
Address proof of business ( Utility Bill & Premises ownership documents);
Mobile No. & Email ID of an Authorized person for company;
Copy of Identity Proof & Address Proof;
User Affidavit is required by trademark authorities for confirming the use of Trademark by the applicant;
Certificate of operating as  Small enterprise (if applicable);
Certificate registered for Startup (if applicable)
Why MN & Associates for Trademark Registration of Pharma Companies?
We hold exposure on root concepts of Trademark registration. We help our clients expedite their Trademark applications, getting them approval with maximum possible ease.
Trademark Registration Process:
Trademark Search:The first step in the trademark registration process includes doing a trademark search for the available name, brand mark, logo which can be done on the trademark portal at  https://ipindiaonline.gov.in/tmrpublicsearch/frmmain.aspx
Selection of Trademark Class and Category: The trademark authorities provide an entire range of goods and services categorized into 45 Classes to be trademarked. For Pharma Companies, most goods have been categorized into Class 5and Class 35 in certain exceptional situations. An application depending upon the requirement of the company can also be filed for registration of Collective marks or Certification marks.
File Trademark Application Form:On selection of the proper class of goods to be registered, the applicant has to log in on the trademark registration portal (https://ipindiaservices.gov.in/eregister/eregister.aspx).
Using Form TM-A, all details of the company and the product for which the trademark is to be obtained is to be filed and duly certified/ attested by a registered trademark attorney.
Payment of Trademark Fees:Once the form is submitted, make payment of the required fees as shown on the portal.
Receipt of Acknowledgment: On successful payment, an acknowledgment or a reference number (application number) is generated which can be used for knowing the progress of the application at any future date.
Once a trademark registration application is submitted, the trademark authorities and the proper officer will consider the application for examination. The applicant is intimated by the officer for acceptance or rejection of application. On acceptance, it is further published in a Trademark Journal for about 4 months for being advertised in which either trademark would be registered, objected or opposed as the case may be.
Once approved, the trademark is registered for a minimum period of 10 years after which it is to be to be renewed.
Benefits of Trademark Registration for Pharma Company 
Legal security to drug manufacturers
Help buyers to choose the right medications.
Help drug manufacturers to take legal action against counterfeits.
Helps in better marketing & branding of goods.
Helps creating positive image of the company
Want to apply a Trademark for your Pharma Company?
Reach us at info@cs-india.com
Also Read: Gifts to and from HUF
Share this post?