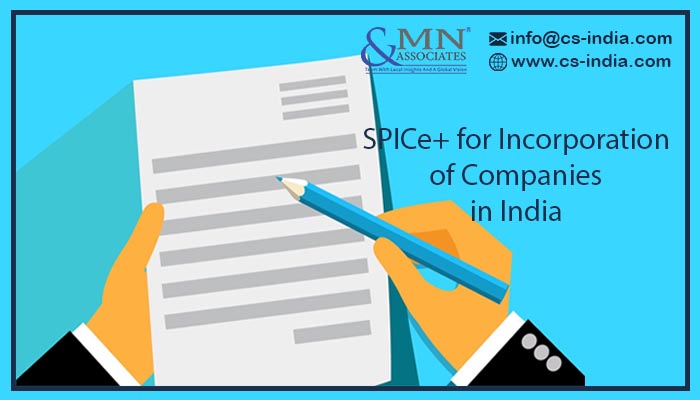 As per the Ministry of Corporate Affairs ("MCA") update, Ministry will soon notify new SPICe PLUS e form replacing existing SPICe eform as a part of Ease of Doing Business ("EODB") initiative. SPICe PLUS would be an integrated form that shall be covering multiple services.
SPICe PLUS:
This form provides us an option to avail many services and registrations in a single application of which some registrations are optional, it covers the following:
Reservation of Name
Allotment of Director Identification Number ("DIN")
Incorporation Process of the Company
Obtaining PAN of the Company
Obtaining TAN of the Company
Register company as Employer under Employees' Provident Fund Organization ("EPFO")
Company registration under Employee State Insurance Scheme ("ESIS")
Professional Tax Registration for Company (in some specific states currently)
Opening of Bank Account in the name of the company
GSTIN application in the name of the company
SPICe Plus v/s SPICe Form
In SPICe Plus we can make multiple registrations as mentioned above in a single web-based form whereas in eform SPICe we get registration for few services and one has to submit AGILE form separately.
Points to take care of:
After deployment of SPICe Plus, the RUN form shall be used only for the change in name of existing companies. That means new companies shall be restricted to apply their names through RUN e-form. The RUN form had been deployed for reservation of names for companies or Limited Liability Partnerships (LLP) vide Notification dated 27th January 2017.
Those applicants who have reserved their name already through RUN Form have to incorporate under existing SPICe eform and if the resubmission is marked by MCA in the process of Incorporation then the same shall be submitted via existing SPICe eform.
Resubmission option in RUN will be not available for 15 days from 1st February 2020 due to a change in proposed RUN web service. RUN Application filed after 1st February 2020 will either be approved or rejected on one-time submission by Central Registration Centers ("CRC") Officers. This step when implemented will not give resubmission option to the applicant. So, the applicant must be very vigilant by taking care of the requirements of law and the business, the payment made for the reservation of name will not be refunded on rejection.
These steps are being taken by the department to make the procedure smoother and less complicated for incorporating a company in India. Therefore, more such steps that enhance better compliance, restrictive in manner will be introduced soon in the coming times.
For assistance in Company Incorporation feel free to bother us
Write at info@cs-india.com
Also Read: System Mandates DIN for Communications of GST & Customs
Share this post?