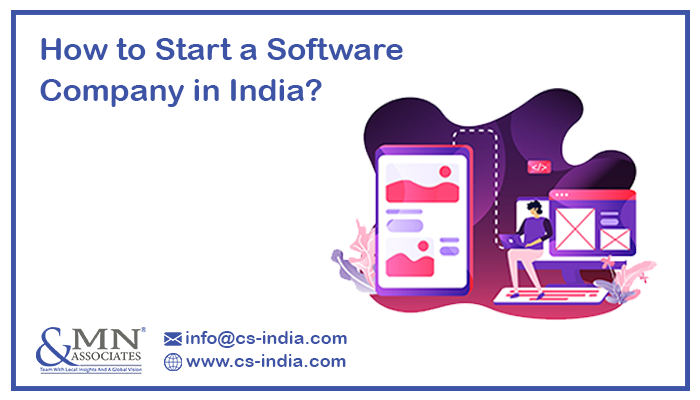 To start a new business, it requires the right stage and the right audience to cater to. Also, selling today in different ways brings different opportunities to expand. Seeking above facts and prototyping a simplest yet more informative and extensive revenue-generating business is coming up with a new software company of your own. A company that can cater to not only the existing market with customized solutions but also the coming ideas with creative work solutions.
Choosing a Software Company niche for the business is yet less challenging but more persuasive on part of government rules and regulations when it comes to starting a new business institution in India. The Indian government does have multiple schemes and credit offers for Startups and Industry units those engaged or want to initiate a new IT unit in the country. While on the other hand, there are also certain restrictions and legal procedures that prospects to start such a company have to grip.
In this post, you will get to know all about how to build your software company in India from scratch and factors to consider:
#1 Knowing the Exact Marketplace 
The Indian service sector has a diversity of services to offer in terms of Software technology. One has to choose the type or category of the company he wants to opt for. The company can either be formed as  :
Ø Consulting or Service Seeking Software Company (like Flipkart, netmeds)
Ø Product or Package Developing Software Company (like IBM, Infosys, etc )
#2 Consulting or Service Seeking Companies: Companies that engaged in consulting services, outsourcing events, database management, quality services, multimedia offerings, etc.
#3 Product or Package Delivering Companies: Companies that engaged in building customized software options for their clients.
$4 Legally binding a Software Company
To run a software company in India, it is necessary to get it registered with the government through the Ministry of  Corporate Affairs MCA portal taking the help of a legal professional or compliance expert online. To legally register a company online all necessary documents including Memorandum of Association (MOA) and Article of Association (AOA), necessary declarations have to be prepared and one has to obtain :
>Apply for digital signatures.
>Director Identification Numbers for Directors representing the company.
>Reserve a Unique Name for the Company filing RUN provisions on MCA.
>Obtain CIN Number on approval of the company registrar.
#4 Obtaining Director Identification Number: The minimum number of directors representing the company shall have to be more than 2 depending on the type of company form registered. Each director in the company shall have to obtain a Director Identification Number by filling in SPICe e-form on the MCA Portal online
#5 Reserve a Unique Name for the Company: The company owners must have a unique name registered in government records which will distinguish it from other competitive companies by filling in the e-form RUN (Reserve Unique Name ) online.
#6 Obtaining CIN Number: A software company can be registered either in the form of a private company, a public company, LLP, OPC or in any other form. Once the company a registered online and is approved of the ROC, it is granted a unique CIN (Corporate Identity Number) which is used by the government as a tracking number for monitoring activities of a company.
#6 Apply for DSC: To ensure that all documents are legally attested and approved by the members of the company, the company and its members must apply and hold DSC (Digital Signature Certificates ). Digital Signatures can be applied through approved CCA units.
#6 Essential Licenses to Obtain 
Other than holding mandatory registrations and keeping in view of protection and security, it is recommended to apply for the following licenses before starting a software company :
> Trademark /Copyright /Patent Registration
> Software License Agreements
> STPI License.
#7 Location to access
Placing a software company in India does not require a post location to operate from. A software company can be formed even at the Home address of the prospect. Even virtual offices are also available online to start
#8 Hire the Trainees 
Each business requires support and services of staff, and so a software company also. To start a software company, have access to the brainy people around and even freelancers could be hired online.
Need a ready business plan?
Get success plans and advisory on business incorporation online.
Reach out us at info@cs-india.com
Share this post?