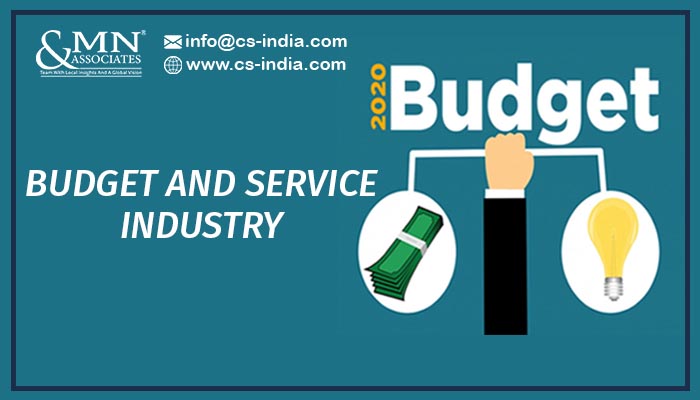 Indian Service Sector is not only the dominating sector in the GDP of the country but is also a major contributor to rising foreign investment flows and exports of the country as well. The Sector brings the largest employment opportunities and covers a wide range of activities including trade, hotel, banking, transport, storage, communication, finance, real estate, social and personal services, etc. The Union Budget 2020, announced by FM Nirmala Sitharaman highlighted for the steady blooming of the Service sector in India and the policy initiatives, the government is seeking for its growth.
Some highlights of the reforms and policy initiatives announced for the service sector in the Union Budget 2020 are as under:
For the Banking sector – 
The deposit insurance coverage increased from Rs. 1 Lakh to Rs. 5 lakh per depositor under the Deposit Insurance Act.
The eligibility limit for Non-Banking Financial Companies (NBFCs) for the debt recovery under Securitization And Reconstruction of Financial Assets & Enforcement of Securities Act (SARFAESI) proposed to reduce to asset size of Rs 50 lakhs.
It is proposed to sell the balance of holding of government in IDBI Bank.
An app-based invoice finance facility will soon be launched.
The initiative is taken to improve seed funding facilities for Startups.
For the Education Sector – 
Near about 150 higher educational institutions will start apprenticeship embedded courses?
To build internship opportunities for freshly graduated engineers by urban local bodies.
To roll special bridge courses to improve skill sets of those seeking employment abroad.
To initiate the establishment of World-class institutes with the motive of attracting students on a global level and securing international standards for Indian students.
To initiate preparation of a New Education Policy for the country.
To enabled sources of Commercial borrowing and FDI (Foreign Direct Investment) to the education system.
To the expansion of digital ways towards education, 100 top institutions will be engaged to provide online education programs.
Provide academic knowledge of archaeology and museology through forming institutes and a University naming Indian Institute of Heritage and Conservation under the Ministry of Culture.
Form a National Police University and a National Forensic Science University in the domain of forensic science and promote academics of policing science.
For Health and Medical Sector – 
Fit India movement launched to fight Non-Communicable Diseases
More than 20,000 impaneled hospitals under PM Jan Arogya Yojana.
Validity gap funding proposed for setting up hospitals in PPP mode.
It has been proposed to introduce sanitation facilities in drinking water.
Inclusion of programs for delivery of affordable medicines, access to better & affordable livelihood.
Form Jan Aushadi Kendres offering 2000 medicines and 300 surgical facilities,
Set up of world-class infrastructure for airports, bus terminals, railway transportation warehousing, irrigation projects.
Improve the nutritional status of women and children with new Poshan Abhiyaan.
For Travel, Storage and Transport Sector: 
Form a National Logistic Policy
Setup more passenger trains, consider re-development of stations and setting up solar power capacity alongside rail tracks.
Build cold supply chains and storage facilities for perishables in Rail network.
For Information Technology (IT) Sector 
Build Data Centre parks and provide digital connectivity to all public institutions through BharatNet.
Setup of Innovation Centres and a Digital platform for seamless Intellectual Property Right (IPR) applications.
Invest about Rs 8000 crore in National Mission on Quantum Technologies and Applications.
Extend handholding support for technology upgradations and R&D, for some selected sectors including pharmaceuticals, auto components, etc.
Form faceless tax assessment facility and URN facility for tax purposes of charity institutions.
To conclude, Budget 2020 is a path-breaking budget that strives to expand the country's growth through improving the service sector policies and raising the standards of living for every citizen.
Need assistance on company formation?
Connect to our business expert right away: info@cs-india.com
Share this post?