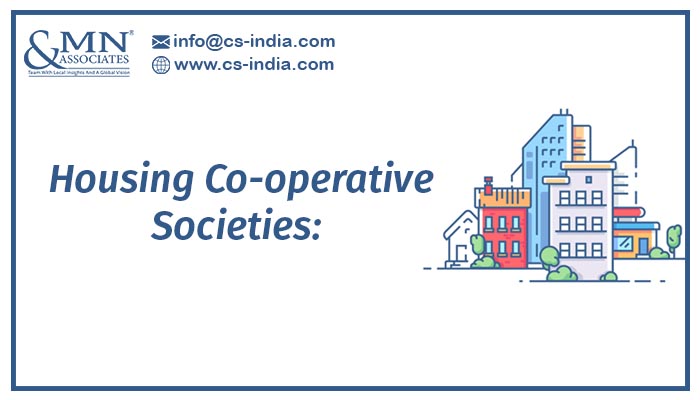 Housing Cooperative Societies – Creating an association of persons with investments and for the benefit of members cum depositors? Need legal recognition of your association?
In a situation where the individuals/body corporate form a group with the same object of promotion of economic, social and cultural interests of its members, in accordance with co-operative principles, or a co-operative society established with the object of facilitating the operations of such a co-operative society decides to invest for mutual benefit, such an association when formed and is enforceable by the state laws is known as Cooperative Society.
In a cooperative society, members are free to join and exit anytime the membership of the co-operative society. The  concept and legality of a cooperative society   are as follows:
The cooperative society can be formed with a minimum of 15 members.
Such a society shall have limited liability for members. Such society shall suffix the word" limited liability" to its name.
The maximum a person/body corporate can hold is 1/10th of share capital.
Members forming co-operative societies must have registered under the Cooperative Society Registration Act, 1912.
Every society shall be registered with the word "co-operative" as the suffix.
Such a society shall be registered with minimum capital contribution and minimum holding of each member as prescribed.
Classification  of Housing Cooperative Societies
Tenant Ownership Housing Societies: –
Where the land is owned by the society or the houses are owned by the members on lease such types of societies must strictly comply with regulations regarding subletting or transferring of houses but they can construct or build the houses according to their own requirements.
Tenant Co-Partnership Housing Societies: –
The land with the constructed building is owned by the society and members are on lease basis but members have right upon property by paying capital and rents. It is also known as flat owner societies.
House Mortgage Societies: –
These types of societies lend money on credit basis to their members for the construction of houses. It is also known as credit societies.
House Construction or House Building Societies: –
These societies construct or build the houses on behalf of members. Upon completion of constrictions of houses money is recovered by members.
Eligibility for membership of Housing Cooperative Societies
Following persons are eligible to be granted a membership of housing co-operative society:-
For an individual must complete the age of 18 years.
Such individual must be competent to contract as well as mentally sound.
A person either an individual or body corporate who wants to become a member of the society should apply in writing for grant a membership.
The person must not be undischarged bankrupt or an insolvent.
Pre-requisites :
If an individual or company or other body corporate wants to register as housing cooperative society they need to pay registration fee of Rs. 2,500; and
The Minimum capital contribution is required for registration is Rs. 60,000/-.
List of Documents required for Registration
Following are the list of documents required for registering a housing cooperative Societies:-
Passport size photograph of all members/ authorized person.
PAN Card as identity proof of all members of the cooperative society.
The residence proof of all members of the proposed housing co-operative society. Following can be used as a valid residence proof:-
Bank account statement; or
Aadhaar card; or
Passport; or
Driving license
Copy of Memorandum of Association ("MOA") and Article of Association ("AOA"), duly signed by all members or atleast 10 members as authorized.
List and details of promoters.
Object of the housing co-operative society.
Proof of the principal place of business premises such proof can be validated by
Electricity bill; or
Water bill; or
Gas bill; or
Property tax receipt
If premises are owned: Property documents or premises are rented, the Rent agreement will suffice.
Letter of the Power of Attorney of the land where the houses or flats constructed for the right and value of the property declared at the time of agreement.
Guarantee letter or approval copy which is issued by the Government in case land is given by the Government.
Procedure for Registration of Housing Cooperative Societies
The co-operative society registration is regulated as per the state governments enactments The general steps are to be followed for registration of housing co-operative society are as follows which may vary subject to different state rules:-
Authorization for Application –
The first step to conduct a meeting with proposed members and electing a chief promoter. Subsequently, pass a co-operative resolution for authorization to make an application for registration of a housing co-operative society.
Application for name reservation –
The application made for name reservation should be accompanied by signature of at least 10 individual members to validate the application.
Once the name of the co-operative society has been selected and an application has to be made to the registrar for reservation of name along with prescribed fee. The name once reserve is valid for 3 months.
Application for registration –
The point to be noted that the word "limited" shall be the last word in the name of every cooperative society with limited liability registered under the co-operative society Act, 1912.
The amount of subscription has to be collected from the proposed subscribers.
Opening of Bank Account –
A bank account has to be opened in the name of the co-operative society and capital amount has to be deposited in the bank account.
Submission of additional information or clarification –
On successful submission of application, additional information as required or submission shall be made to the registrar of state within prescribed timeframe as defined by the registrar.
Issuance of Certificate –
Upon successful submission, within 2 months the authority shall issue a certificate of incorporation to the housing co-operative society which shall be the conclusive proof of incorporation.
Appeal in case of Rejection –
When registrar refuses registration, an appeal can be filled against the registrar within 1 month of rejection or refusal to the tribunal.
 Advantages of Co-operative Society
The liabilities of the members of the co-operative society are limited to the capital contributed by them.
It provides affordable house with minimal down payments to the members.
It has distinct legal entity, death or lunacy or bankruptcy of member does not affect the continuity of co-operative society.
Co-operative society registration process is very simple and it can be done with few legal formalities.
Government provides all necessary facilities to such societies such as provides loan with lower rate of interest and relief of taxation.
Disadvantages of Co-operative Society
More chances of conflicts  amongst members as members diversify in their
All affairs of the society are openly discussed in the meetings of members.
Inefficiency, ignorance of rules and bye-laws or misuse of funds are biggest problems in the development and growth of business.
A  Housing Cooperative Societies is based on membership which is granted by subscribing to shares. It provides residential houses or flats to its members. It also saves from land inadequacy and finance malpractices of builders and provides services for economic betterment and well being for rural and urban areas.
Need any assistance related to incorporation of societies?
Reach us at info@cs-india.com
Also Read: Can a penalty on GST Portal be discounted or removed by a GST Officer?
Share this post?