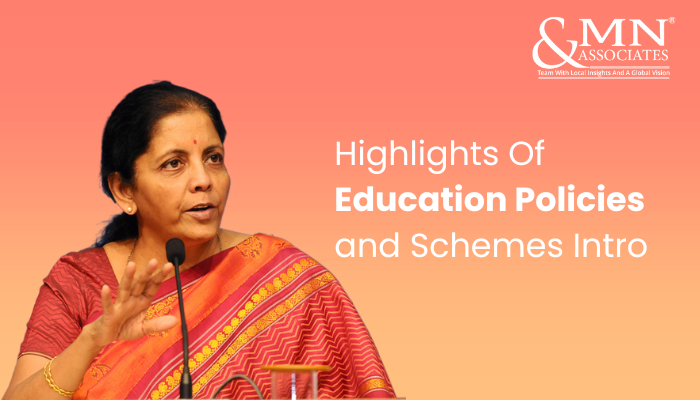 The Union Budget 2023, laid the foundation for a new set of thinking of transforming the youth of modern India from traditional degree to skill-based education. The Union Budget this year, also provided a hint to the shift of focus of government towards healthcare, social well-being, and inclined support needed by agriculture for allied activities.
Announcing the Union Budget, FM primarily focussed on all possible schemes and policy measures required for fulfilling the development needs of every sector.
Here are the key announcements made in Union Budget 2023 for improving Education, Healthcare, Savings, and Agriculture in the country:
Education and Skills
157 New Nursing colleges will be established hiring over 38800 teachers and a support staff of 740 to support 3.5 lakh tribal students by the next 3 years.
To enhance AI, Robotics, and several other new-age soft skills through Pradhan Mantri Kaushal Vikas Yojana 4.0 and separate 30 Skill India International centers will be set up for scaling international opportunities for Indian Youth.
National Digital Library for Children and Adolescents will be formed for facilitating e-books and quality regional titles.
IGOT Karmayogi, an online training platform will be launched to enhance the skills of government employees.
For initiating Make AI in India and Make AI work for India, AI centers will be established as centers of excellence.
Health and Savings
For health & general well-being – the Sickle Cell Anaemia Elimination mission will be launched, and new ICMR labs and programs promoting R&D in Pharmaceuticals will be initiated.
Digitization of one lakh ancient inscriptions will be done through the Bharat Shared Repository of Inscriptions.
To offer more saving opportunities to the homemaker, Mahila Samman Saving Certificates shall be launched offering a deposit facility for upto Rs 2 lakh in the name of women or girls for the tenure of 2 years (up to March 2025) at a fixed interest rate of 7.5 percent with partial withdrawal option.
Investment in Monthly Income Account Scheme will be enhanced from Rs 4.5 lakh to Rs 9 lakh in a single account and Rs 9 lakh to 15 lakh in case of a joint account.
Agricultural policies and Programmes
For quality and disease-free horticulture cropping an Aatmanirbhar Clean Plant program will be initiated with an Outlay of 2200 crores.
To form an Agriculture Accelerator fund for encouraging agri startups and additional credit announcements for those involved in activities of animal husbandry, dairy, and fisheries with Rs 20 lakh crore.
The Institute of Millet Research is to be entitled as a Center of Excellence to make India a Global Hub for Shree Anna.
To help fishermen, and fish vendors a sub-scheme of PM Matsya Sampada will be introduced with a capital outlay of Rs 6000 crore.
To extend support to the agri-tech industry and agri startups special Digital Public Infrastructure for agriculture initiative will be undertaken.
Digitization of the 63000 Primary Agricultural Credit Societies with an outlay of 2516 crore will be initiated and decentralized storage capacities will be established to help farmers store their produce.
To support drinking water projects and micro irrigation, an additional allocation of 5300 crores shall be done.
To launch the "PM Programme for Restoration, Awareness, Nourishment, and Amelioration of Mother Earth" (PM-PRANAM) to incentivize states to use alternate fertilizers and balanced use of Chemical fertilizers.
Fostering mangrove production Mangrove Initiative for Shoreline Habitats & Tangible Incomes, MISHTI shall be taken up.
A special Green Credit Programme will be introduced under Environment (Protection) Act for eco-friendly, sustainable, and responsive actions.
For income generation of local communities and optimal use of wetlands, Amrit Darohar Scheme will be implemented.
It was observed, allocations made through the Budget 2023-24, especially for the agriculture sector raised a CAGR of 12 percent compared to allocations made in the Budget of 2022-23. The Overall speech of the Finance Minister was more focused on infrastructure development, startup evolution, and private investment in the economy.
Wish to know more of compliance and business management,
please feel free to write to us at info@cs-india.com.
Share this post?