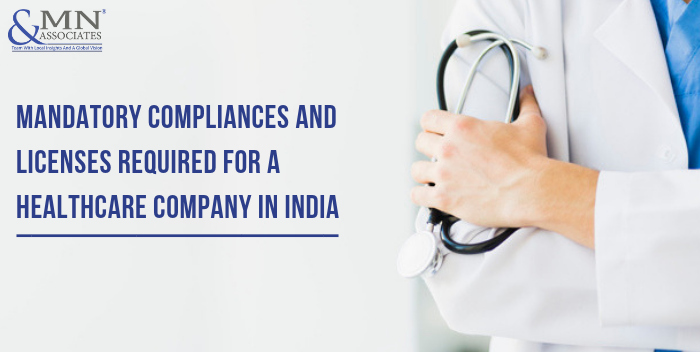 Starting a business has never been an easy job. But it is said that if one has the courage to begin, then one also has the courage to succeed. To start with a business or a company, one needs to obtain certain permissions, licenses & comply with various regulations. Along with it the laws which differ in each business type depending upon the capital, industry type, place of business, number of employees and so on. A healthcare company in India requires some mandatory compliances and licenses.
In India, The Ministry of Health and Family Welfare acts as a watchdog for regulating the healthcare industry. The Directorate General of Health Services (Dte.GHS) is a repository of technical knowledge concerning Public Health, Medical Education and Health Care. It is an attached organization of the Ministry of Health & Family Welfare and is in the implementation of various Health services.
To establish a healthcare company in India, you simply need to register your business as a private company. Then apply for PAN (Permanent Account Number) in the name of the company. Also, you need to apply for tax registration like service tax and GST. In addition to it if the company is dealing in healthcare products then VAT/CST registration is required after a certain turnover limit is crossed.
The Pharmaceutical Industry is one of the areas that come under the ambit of healthcare compliances and is extensively regulated by the following:
Central Drugs Standard Control Organization (CDSCO)
It prescribes standards and measures for ensuring the safety, efficacy, and quality of drugs, cosmetics, diagnostics and devices in the country. It also regulates the market authorization of new drugs and clinical trials standards; supervises drug imports and approves licenses to manufacture the above-mentioned products.
National Pharmaceutical Pricing Authority (NPPA)
It periodically updates the list under price control through inclusion and exclusion of drugs in accordance with established guidelines exports and imports and market share of pharmaceutical firms. In addition to that, it enforces and monitors the availability of medicines. Thereby imparting inputs to Parliament in issues pertaining to drug pricing.
Indian Council for Medical Research (ICMR)
The governing body of the council is presided over by the Union Health Minister. In scientific and technical matters, the assistance is provided by a scientific advisory board comprising eminent experts in different biomedical disciplines.
Drugs Controller General of India (DCGI)
The DCGI is an apex body in the pharmaceutical industry governing various issues. Some of which include product approval and standards, clinical trials, the introduction of new drugs, import licenses for new drugs and enforcing new drug legislation.
Talking about the license requirement, the most important license which a businessman needs to acquire is the FSSAI license. This license governs entire food products sale in India. All this includes health supplements, organic foods, foods for special dietary uses, functional foods, nutraceuticals etc.
The healthcare industry in India is growing at a rapid rate. It has also paved way for civil and criminal liability as a threat for healthcare companies. Imperfect knowledge of the compliance, multiple laws and regulations that keep evolving and time constraints make compliance difficult for healthcare companies.
All drugs that are sold should be under a license. The Drugs and Cosmetics Act, 1940 clearly lay down which drugs can be sold only on the production of a prescription issued by a registered doctor. The Drugs and Magic Remedies Act, 1954 states that if you are going to send advertisements (promoting anything) to registered medical practitioners and chemists after starting healthcare business in India, you can do only if your documents bear the words 'For the use only of registered medical practitioners or a hospital or a laboratory' at the top of the document. The Pharmacy Act, 1948 regulates the profession of Pharmacy in India. The Clinical Establishments (Registration and Regulation) Act, 2010 provides for registration and regulation of all clinical establishments in the country. Along with a view of prescribing the minimum standards of facilities and services provided by clinical establishments.
One needs to comply with the regulations under all the above-mentioned acts to avoid penalties and violation of the law.
Share this post?