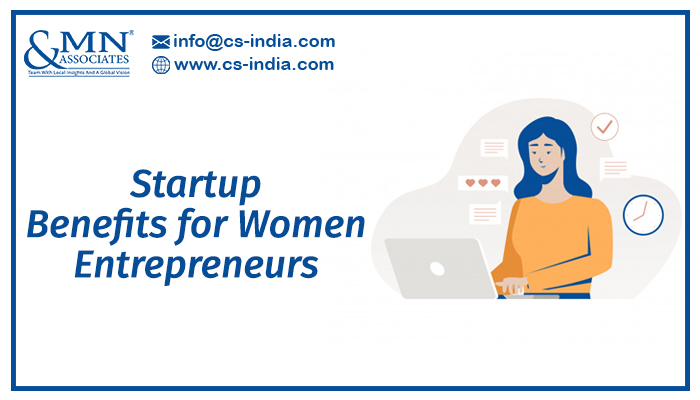 Entrepreneurship is all about participation and engagement in the process of building innovation, selling, and reaping profits with bared risks. Women being equal to men kick-starts the role of entrepreneurship in a country. Highly empowered with dedication and backed support of government policies, the frequency of women entrepreneurs is increasing day by day.
Placed in its sixth economic census, the Ministry of Statistics affirmed for 14% of total entrepreneurship in India to be backed by Women entrepreneurs.
To further help women coming from all walks of life in building a small business venture of their own, the government has placed some policies especially for start-ups held by women entrepreneurs.
Here's a list of startup benefits from the government to women entrepreneurs.
#1. Financial Assistance: 
To encourage women entrepreneurs, to have their business idea real on board, the government and many financial institutions offer financial assistance through some credit policies especially framed for women.
The Annapurna Scheme: The scheme grants loans up to Rs. 50,000 to help women in setting up their own catering business.
The Stree Shakti Scheme: The scheme grants for special business loans up to Rs 5 lakhs to entities where more than 50% of ownership is held by women.
Orient MahilaVikasYojana Scheme: The scheme offers collateral-free loans up to Rs 10 lakh and more than that with collateral to women entrepreneurs to start their small business or industry.
Dena Shakti Scheme: For women thinking for a business out of agricultural goods or manufacturing business, the scheme offers loans up to Rs 20 lakh and other microcredits.
Udyogini Scheme: If compared to other schemes, the scheme provides loans on low-interest rates and up to Rs 1 lakh for women aged between18 to 45.
Cent Kalyani Scheme: For women initiating business related to agriculture or retail trade, collateral-free loans up to Rs 100 lakhs shall be provided under this scheme.
Mudra Yojana for Women Scheme: The scheme provides for financial aid to women to start small ventures like forming a beauty salon, day-care center, etc. Loans ranging from Rs 50000 to Rs 5 lakh shall be provided under this scheme.
Mahila Udhyam Nidhi Scheme: For fulfillment of financial need of small business ideas or modernization of existing women held businesses, the scheme provides loans up to Rs 10 lakh.
A loan from Bhartiya Mahila Bank: The bank offers collateral-free loans to MSMEs up to Rs 1 crore and financial assistance up to Rs 20 crore to underprivileged women to start their manufacturing business.
TREAD (Trade-Related Entrepreneurship Assistance and Development Scheme): The scheme assists with finance to women held start-ups along with training and counseling on different matters.
#2. Monthly Allowances: 
Build-in some state policies, some monetary allowances to start-ups especially formed by women entrepreneurs have been provided by different state governments. Inline with other startup benefits, these allowances are provided to women entrepreneurs as a supportive measure to help them conduct their startup Research and Development / Marketing or Publicity activities. The states promoting such allowances include:
Andaman and Nicobar: To give Rs 22,000 as a monthly allowance to start-ups with women as founder or Co-founder for 1 year under its Andaman and Nicobar Innovation Policy, 2018.
Assam: To give a special one-time incentive of Rs 5,000 per women candidate in the startup to an upper limit of Rs 1 lakh per startup for 3 years under its Assam Startup Policy, 2017.
Jammu & Kashmir: To give Rs 12,000 as a monthly allowance to women with start-ups owned or managed with more than 25% ownership under its Jammu & Kashmir Startup Policy, 2018.
Odisha: To give Rs 22,000 as a monthly allowance to women entrepreneurs, once the startup is approved under the OdishaStartup Policy, 2016.
#3. Policies, Subsidies, Exemptions, and Reimbursement of Expenses :
Also included in the state policies, some additional startup benefits in the form of subsidies& exemptions have been marked especially for women entrepreneurs. The key policy benefits announced by states for women held startups include:
Reimbursement of all 100% expenses incurred by women startup owners in renting stalls in national or international exhibitions in Andra Pradesh.
Assistance in Marketing of the startup from the government to be provided if approved as an eligible startup under the MSME Policy of Uttrakhand, 2015.
An additional 5% subsidy in all policy rates proposed for other start-ups to be provided to women entrepreneurs under the Bihar Startup Policy, 2017.
#4. A special platform for Women held Startups :
To build a friendly ecosystem for women entrepreneurs to initiate their startup business with ease, the NITI Aayog of government proposed for a special compliance portal for Women start-ups – The Women Entrepreneurship Platform (WEP).
On registration with the WEP platform, many new women entrepreneurs will be able to seek help from experts and professionals already working in the startup industry.
Incorporate your Startup Business with us
Email us at info@cs-india.com
Share this post?