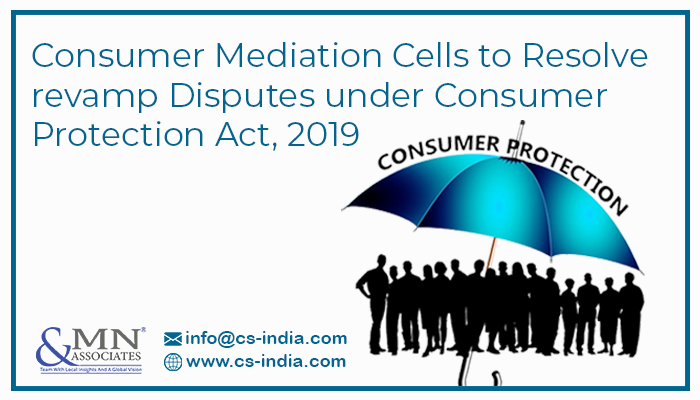 For more effective administration and on-time settlement of consumer disputes, the Centre gave assent to the Consumer Protection Act, 2019 vide notification dated 9th August 2019.
The Consumer Protection Act, 2019  aims at sorely simplifying the entire process of consumer dispute redressal through speedier mediation proceedings. The Act envisages the government to set up a 'Central Consumer Protection Authority (CCPA)' to promote, protect and enforce the rights of consumers and investigate, recall, refund and impose penalties on offenders.
Salient Features of the Consumer Protection Act 
1. Simplification of the Dispute Resolution Process –
More ways to resolve consumer grievances have been notified by allowing – Filling of complaints from the place of residence through e-filling portals (unlike earlier, where the place of seller  or place of the purchase were considered as the jurisdiction within which the complaint should have to be filed;)  and
Using video conferencing as a mode to attend the hearings, cross-examination of parties.
This initiative has the following advantages:

eases the process for consumer disputes resolution;
eliminates the postponing of dates where both parties should be present.
Moreover, the e- filing portal helps the consumer to save time and money, evident in filing the complaint with date and time, generation of application ID  for future correspondence.
2. Increase in Limit for Filing the Complaint by aggrieved party-
Enhancing the jurisdiction of District Commission up to Rs. 1 crore, State Commission from Rs. 1 crore to up to Rs. 10 crores and for National Commission beyond  Rs. 10 crores.
3. Establishment & Empowering Central Consumer Protection Authority (" CCPA") –
An Authority has been established and has been empowered with powers to conduct investigations, order to recall unsafe products & services, powers pertaining to control over misleading advertisements and imposing penalties on manufacturers, endorsers, and publishers of misleading advertisements.
The offenses and penalties have been defined in a separate chapter of the Act for the offenses in case violation of a provision of COPRA.
4. Setting up product liabilities:
Standards have been defined in  The Act to compensate consumers from damage or injury caused due to consumption or usage of any good or service. The  factors  which form the  basis for product liability has now been defined :
– product manufacturer
– service provider
– product seller but not product manufacturer.
The following are the cases where the product manufacturer can be  held liable:
a. Product manufacturing, design and specification defects.
b. Warranty claims.
c. Incorrect instructions, details expressed.
d. Imperfect, dissatisfactory or faulty services provided.
Certain circumstances are also defined where the manufacturer, service provider or seller interests are safeguarded.
5. Adding Mediation Support:
The Act defines for mediation center to take control of consumer grievances and providing a swift resolution. The following mediation mechanisms setup was suggested:
a. Alternate Dispute Resolution (ADR) mechanism
b. Referring cases to Consumer forums where a possibility exists for prompt settlement of parties.
c. Disallowing appeals against settlements made through mediation.
6. Covers the Electronic Transactions explicitly which the Consumer Protection Act (COPRA), 1986 did not have.
7. Protects the consumer's personal and confidential information which consumers usually share with the seller in terms of the agreement. Hence, the seller should not use for his/her own personal use, COPRA, 2019 widens the definition of unfair trade practice.
Benefits Intend to Consumer Rights  
The act sought some common issues and takes down disabilities of the act to ensure simplicity in redressal procedures.
The Act  highlights :
– Placing deterrent punishment and penalties for misleading advertisements and adulteration practices.
– Provisions for new-age consumers getting issues in e-commerce and direct selling.
– Putting the right money value of the product in redressal instead of claims over MRP. (For example – a good sold on discount, and buyer seeking redressal on MRP and related claims.
Also Read: Export Promotion Schemes By Government Of India For Indian Entities
To Sum up 
The  Act puts on prompt measures and responsibilities on associated agencies to ensure the safeguard of consumer rights.
Are you an e-commerce operator? Do tax complications limits you in selling?
Connect to our tax advisor online and get your tax worries outsourced.
Email: info@csindia.com
Share this post?