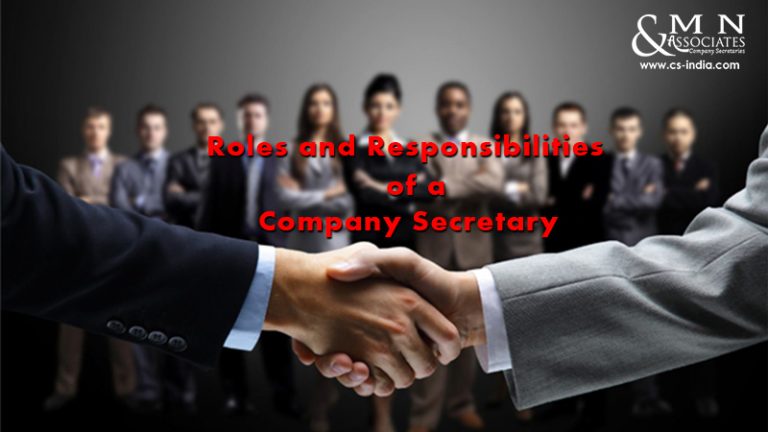 Company Secretary (CS) executive is an important managerial and administrative part of a company. He as one of the legal representatives of a company performs and manages various regulatory functions like carrying incorporation of the firm; sufficing preparation and audit of business reports; filing annual returns; dealing with amended regulations on a steady basis, etc. He also plays a definite role as a Business Advisory to the board of directors of the company guiding them incorporate laws; corporate governance; strategic management; project planning; capital markets & securities laws. In short; a Company Secretary works as an in-house legal expert and compliance officer with the company.
According to the Companies Act, the Company Secretary is an individual who –
Is an approved member of Institute of Company Secretaries of India (ICSI) & ;
Performs functions defined by the Institution and follows rules and regulations defined under the Companies Act in operation.
The Companies Act also abides and confers special status to every company secretary to work as a Key Managerial Personnel (KMP) to deliver his expertise as an employee in every:
Private Company having paid-up capital of Rs. 5 Crore or more.
Public Company having paid-up capital from Rs. 5 Crore to Rs. 10 Crore.
Being characterized by numerous roles and duties; a company secretary holds a multi-disciplinary background. This article will guide you with some important aspects of defining the legal status of a Company Secretary in India in terms of both employment and practice.
Role of a Company Secretary
The company secretary is a building block of a company; he must perform his duties with reasonable care. Other than being a legal mentor he must ensure all business procedures to be matching with all legal provisions; if not complied he may be held responsible for misconduct and may be dismissed on grounds of dishonesty or infringement of legal rights of the company.
Duties as per Companies Act:
To initiate and carry incorporation procedures like authenticating documents and proceedings used in registration; assuring delivery of registration and allotment details to registrar; making application for increase in share capital; overseeing delivery details of share certificates of allotment; keeping records of share warrant holders; to comply & file annual return; releasing statutory declaration to receive commencement certificate; managing statutory books; giving meeting updates and notices of general meetings to every member; signing and authenticating financial reports and statements (Balance Sheet & Profit & loss statements ) in cases of non-banking financial companies; filing resolution with registrar and preparing minutes of all General and Board Meetings within 30 days.
 Duties as per Income Tax Act:
To verify and submit attested returns & forms; to oversee authentication and filing procedure of TDS (Tax Deducted at source); ensuring that proper TDS is being deducted from the salary of employees; ensuring TDS reports are well maintained and submission of TDS to government is duly done. 
Duties as per Other Acts:
Obtaining government approvals; complying with regulatory procedures of Industrial disputes; FEMA Act; State Insurance Act; Depositories Act 1996; Foreign Exchange Management Act; monitoring and complying with various legal laws like Labour laws; Competition Laws; Environmental laws, etc.
Other General Duties of a Company Secretary :
Advising authorities and BOD (Board of Directors) in risk management; business policies and strategies; corporate social responsibilities; brand equity & image building; managing intellectual rights of the company; ensuring healthy communication between stakeholders; authorities and government.
Key Responsibilities of a Company Secretary in Practise
CS as a Business Benefactor: The Companies act gives specific right to a company secretary– to exercise promotion and incorporation of companies; to handle company audit and certification services; to sign annual returns; to handle corporate restructuring and takeovers; to scrutinize reports and voting procedures in a transparent manner; to administer revival of sick companies; to become a technical member of Company Law Tribunal; to investigate cases of taxation and corporate affairs.
CS as an Auditor: To ensure corporate discipline and compliance with the laws; the Companies Act confides a company secretary to annex a Secretarial Audit Report to the authorities in form MR-3 ensuring compliances of the company with procedures defined in general laws and legal acts; to report any offensive matter of fraud found to government.
CS as an Advising Agent: CS works as advising agent in cases of – issue of shares; drafting of prospectus/sale letter/issues related to securities/private placement and buyback of shares; raising funds from international markets; loan syndication and documentation; income tax planning; drafting of legal documents; in matters of intellectual property rights; guiding in policies of merger; amalgamation and joint ventures, etc.
Statutory Restrictions and Powers of a Company Secretary
A Company Secretary is legally bounded to restrictions and liable policies defined by ICSI and various regulatory authorities. As a representative body of a company he is- liable for any negligence done on his part which may result in the discharge of his duties; liable for doing anything beyond his authority; under the obligation of keeping secrets of a company from outsiders; liable to be dismissed on account of making any secret profits from company. Other than this he – cannot enter into a contract on behalf of the company unless authorized by directors; cannot borrow money in name of the company; cannot acknowledge a debt against a suit against a company; can not register or transfer shares without due authority of BOD.
Conclusion:
The role of company secretaries is at the pace of growth in Indian companies; with an increase in number of compliances the need and responsibilities of CS cannot be neglected. If a company does not comply with the advent procedures of Companies Act and other authoritative laws; it may run into a number of penalties to which only a Company Secretary counters.
Share this post?