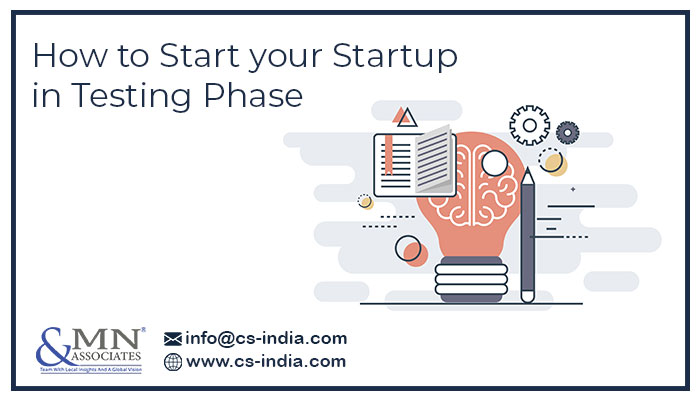 Numerous institutional schemes and opportunities available, if the prospective investors do not find your idea worth testing – it will definitely fail. 
Initiating a Startup requires a complete and in-depth feasibility study of all the factors which contribute to making the business successful. The study of the product will bring a clear view of the Startup growth in the coming future.
As observed, every year 30 to 40% start-ups in India fail due to their unplanned ways of working and taking the idea to the front without thinking much of the finance and delivery channels. Most of the young entrepreneurs think for '' the sooner they build their workspace, the sooner they will get to their target audience ''. The other thing is that most of the entrepreneurs do not exactly know how to validate their idea with the target audience without actually launching their start-up.
On a short note, this post helps you to grab up the key facts to think and test your business idea before taking it to actuality. The major checkpoint is to design the product with minimum limitations and with high stability to sustain in the dynamic market.
Following are the key checkpoints to consider to decide upon whether you should go ahead with the quirky idea or not:
Structure without complexity: 
Just to minimize cost at the early stage and working in and Hit & Trial mode, start your business by incorporating it in a sole proprietorship firm. The best advantage of this form of business is that it can even be started just by getting a Simple GST registration on the name of the individual.
In a sole proprietorship, following benefits accrue:
You can emphasis on Startup growth and other ancillary plans keeping in the budget rather than just putting all money in doing compliance that is comparatively higher in other forms of business like company or partnership.
Even the tax rate matters when a startup is initiated. A sole proprietor is responsible to file his business income in his/her own Income Tax Return ("ITR"), without complying with multi disclosures and that too filling on an individual tax slab rather than the corporate structure.
On the contrary, When there is no constraint on the financials and the product requires launching at a large scale then – you can start with a company with minimum investment and get the product/process patented or as the case may be,  to avoid any legal dispute later.
Concisely, 'Start with proprietorship'.
Own a startup? Want to scale it up?
Get instant advisory on your business matters at cs-india.com
Assumptions plus reviews: 
Take your idea to some of your target prospects and know how much your idea excites them. For instance, for many technology start-ups, building an app today is a key instance of reaching the target audience. Building an app does not require much resources and finance but its viability to reach a few prospects is assured. Sometimes, it might be possible that the app will not scale to lakhs or millions but you will be able to serve many to test your business hypotheses.
Sell as soon as you think fit: 
Sometimes selling even before the product is ready is good. Start getting into promotions and get your prospects ready to know the instances of your product, how it will deliver a solution to their needs. Here, you will be able to build the pre insights of the audience and what they need additionally in your packages. So, start your promotions from today onwards.
Get to the Ground: The other way to know, how all things happen is 'Go and Find the Trainees '. People who succeeded in their startups will be able to guide better off the things they countered during their hardship. Rather putting them in a benefiting deal will never put you to a loss. Advisory adds values, finds an event or place where you can get more information about your startup and meet up as many influential people as you can.
Look for the pains in the existing product: Know from resources, the facts which pain your target audience. For instance, what the target audience likes about it and what additionally they want, the suggestions, therefore, the overall feedback. A potential customer is likely to compare in the first impression what the difference is between your solution and one provided by others. Search for the hindrance and keep digging till you get a reciting thing to amaze them.So, decided to have your startup on-roll (congratulations), you will be able to move if further with the right track. I hope, the above facts helped you.
Have something to share?
Need advisory on 'Startup Structure Modelling '?
Email us at info@cs-india.com
Also Read: Wish to become an Independent Director?
Share this post?