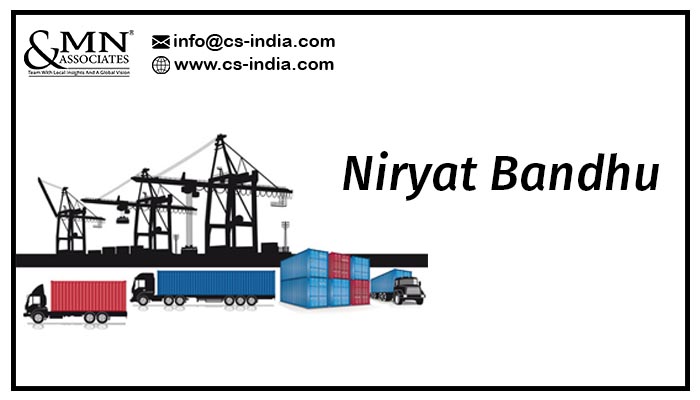 Niryat Bandhu Scheme It's a new scheme announced for promoting export/import by young entrepreneurs by Directorate of Foreign Trade, Department of Commerce,  Ministry of Commerce & Industry,  Government of India on 13th October 2011  and amended time to time to develop, counsel, training the exporters for trading across boundaries.
36 field offices had been set up by Director General of Foreign Trade ("DGFT"). These field offices are known as Regional Authority ("RA") who will follow the day to day procedures as per Foreign Trade Policy. RA would need a team to work on a continuous basis and develop a business education which will be named as Business Excellence Support Team ("BEST"). This team will consist of at least 4 officials from DGFT.
Under this scheme, the young entrepreneur is trained and provided with the necessary skill, mechanism, and knowledge regarding the scheme of the Government and how to turn their ideas into action.
Components of Scheme:
There are 6 types of components under this scheme which are as follows:
Prepare and print the guideline manuals for the new Import Export Code ("IEC") It is also available in the regional language if needed.
Training of new IEC holder every month in each RA. The workshop should be conducted through basic PPT or any other appropriate method.
The particular topic for a reasonable number of exporters.
RA should conduct a seminar at Industry Association, University, Management School, etc. about international trade and develop interest among commerce based students once in a financial year.
The potential entrepreneur can be registered to undertake the short term training at the institute imparting knowledge in export-import related specialized issues.
Each RA should equip itself with necessary equipment like a laptop, projector, screening, seminar booklets, training materials, etc.
The following methodology should be adopted:
Training of new entrepreneurs (IEC Holder) conducts at every month in each RA. The training sessions should be for at least 2 hours at the premised of RA's.
Training/seminars/meetings conduct at towns of export excellence on specific topics for a reasonable number of exporters and the duration of such training should be half-day i.e. 4 hours to full day i.e. 7 hours.
Seminars at Institution, Universities, Management School, etc. with the objective of building a relationship with stakeholders and community and duration of such seminars is for half day.
Capacity building of selected entrepreneurs at the institution imparting training in export-import related specialized topics. This training should not exceed for more than 5 working days.
Certification Programme:
Indian Institute of Foreign Trade ("IIFT") in collaboration with the Directorate General of Foreign Trade, Ministry of Commerce, Government of India, implement a program where candidates can discuss among themselves through an online discussion forum and can convert their learning into certification be appearing into an online exam. This program includes  20 live sessions of two hours each that can be attended by registered participants Each month programs would be held to run a  course a maxim of sixty participants.
How to apply for Niryat Bandhu Scheme:
Register online at http://niryatbandhu.iift.ac.in. The participation fee is Rs. 15,000/- and you can participate in this program by direct live broadcast at your home.
"Want to register for IEC Code?"
Write at info@cs-india.com
Also Read: Gift City India (Gujarat International Finance Tec-City)
Share this post?