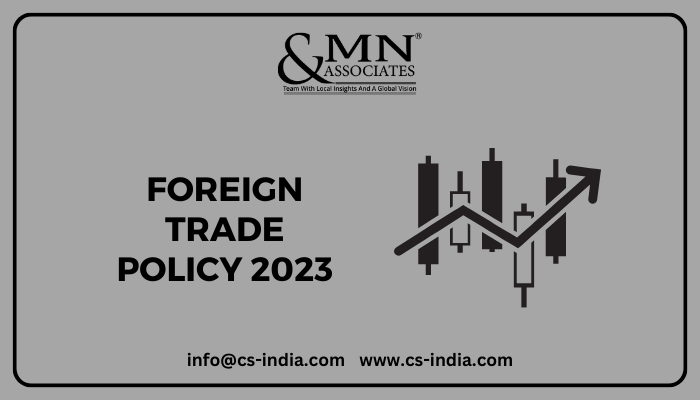 Union Minister of Commerce and Industry, Consumer Affairs, Food and Public Distribution, And Textile, Shri Piyush Goyal launched the FTP 2023, on 31st March 2023 and it is effective from 1st April 2023.
The Foreign Trade Policy (FTP) of 2023 is a crucial framework that outlines the strategic approach of a country toward its international trade. It sets the guidelines and regulations for import and export activities, as well as identifies the goals and strategies to promote foreign trade and boost the country's economic growth. The FTP 2023 aims to create a favorable environment for trade, enhance global competitiveness, and capitalize on emerging opportunities in the international market.
One of the key highlights of the FTP 2023 is the focus on the diversification of export markets. The policy aims to reduce dependency on traditional markets and explore new avenues for export growth. This involves identifying and targeting niche markets, expanding trade with developing countries, and increasing efforts to penetrate markets in regions such as Africa, Latin America, and Asia. The policy also emphasizes strengthening diplomatic ties and trade relationships with strategic trading partners, thereby fostering a conducive environment for trade and investment.
Another significant aspect of the FTP 2023 is the promotion of high-value exports and services. The policy aims to encourage exports of value-added products and services, including technology-intensive goods, innovative services, and intellectual property-driven products. This will help in moving up the value chain and enhance the competitiveness of the country's exports in the global market. Additionally, the FTP 2023 also focuses on fostering innovation and research and development (R&D) to promote the production of high-quality goods and services that meet global standards.
The FTP 2023 also emphasizes the promotion of sustainable trade practices. This includes promoting environmentally friendly products and processes, encouraging renewable energy technologies, and promoting sustainable packaging and transportation practices. The policy also emphasizes compliance with international environmental and social standards, such as those related to labor rights, human rights, and fair trade practices.
Furthermore, the FTP 2023 recognizes the importance of small and medium-sized enterprises (SMEs) in foreign trade. The policy includes measures to enhance the competitiveness of SMEs in international markets by providing access to trade finance, simplifying export procedures, and providing capacity-building support. This will enable SMEs to participate actively in global trade and contribute to economic growth and employment generation.
The FTP is based on the key principle of trust and partnership with exporter and facilitate ease of doing business with exporters. The key to approaching this  Policy stands on the 4 Pillars that are:
Incentive To Remission
Export Promotion through Collaboration – Exporters, States, District, India Mission.
Ease of Doing Business
Emerging Areas- Convert the District into the export hub and streamline SCOMET POLICY. ( Special Chemicals, Organisms, Equipment, And Technologies) Policy
In conclusion, the Foreign Trade Policy 2023 is aimed at creating a conducive environment for international trade, enhancing global competitiveness, and promoting sustainable trade practices. The policy emphasizes diversification of export markets, promotion of high-value exports and services, fostering innovation and R&D, and supporting SMEs. It also emphasizes compliance with international standards related to the environment, labor rights, and fair trade practices.
The FTP 2023 is expected to play a significant role in shaping the country's trade landscape and boosting its economic growth in the global arena.
Need more insights on foreign laws, we are here to assist and support you in all possible ways, please send us your concerns at info@cs-india.com
Share this post?