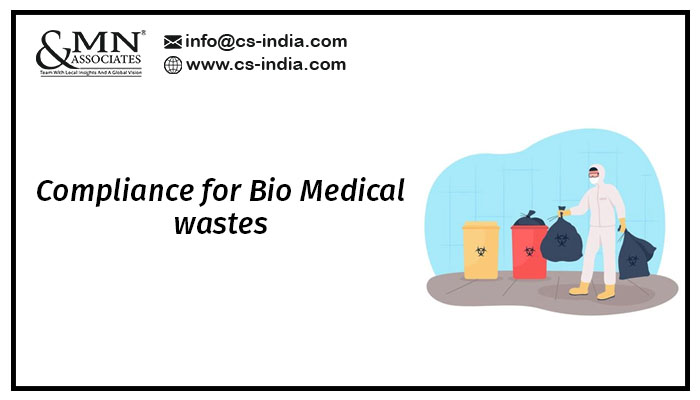 Human and animal anatomical waste, treatment equipment such as needles and syringes, and other materials utilized in health care institutions in the course of treatment and research are all examples of biomedical waste. This waste is produced in hospitals, nursing homes, pathological labs, blood banks, and other healthcare facilities during diagnosis, treatment, or immunization. The nation generates 484 TPD of bio-medical waste from 1, 68,869 healthcare institutions (HCF), of which 447 TPD is processed.
The theory behind Bio Medical Wastes
The scientific disposal of Bio medical Wastes via segregation, collection, and treatment in an ecologically responsible way reduces the negative effect on the health of workers and the environment. Hospitals must have efficient disposal methods, either directly or via shared biological waste treatment and disposal facilities. Hospitals that serve 1000 patients or more each month must acquire authorization, separate biological waste into ten types, and pack it in five color-backs for disposal. There are now 198 common bio-medical waste treatment facilities (CBMWF) in operation, with 28 under development. There are 21,870 HCFs with their own treatment facilities, while 1, 31,837 HCFs use CBMWFs.
As a result, the new bio medical waste management regulations have been announced to effectively handle the country's produced biowaste.
BMW Management Rules, Highlights:
The regulations' scope has been broadened to cover vaccination camps, blood donation camps, surgery camps, and any other healthcare activity; Bio-Medical Waste Management
The Ministry of Environment & Forests (MoEF) has notified the Bio-medical Waste (Management & Handling) Rules, 1998 under the Environment (Protection) Act, 1986. In exercise of the powers conferred by Sections 6, 8, and 25 of the Environment (Protection) Act, 1986 (29 of 1986), and in supersession of the Bio-Medical Waste (Management and Handling) Rules, 1998, and further amendments made to it, the Central Government published the Bio-Medical Waste Management Rules, 2016 via G.S.R. 343(E) dated March 28, 2016.
These rules apply to anyone who generates, collects, receives, stores, transports, treats, disposes of or handles biomedical waste in any form, including hospitals, nursing homes, clinics, dispensaries, veterinary institutions, animal houses, pathological laboratories, blood banks, Ayush Hospitals, clinical establishments, research or educational institutions, health camps, medical or surgical camps.
The prescribed authority for enforcing the provisions of these rules in respect of all health care facilities located in any State/Union Territory is the respective State Pollution Control Board (SPCB)/Pollution Control Committee (PCC).
And in the case of Armed Forces health care establishments under the Ministry of Defense, the Director-General regarding, Armed Forces Medical Services (DGAFMS) should abide by the rules mentioned in the guidelines. The responsibilities of the Occupier or Operator of a Common Bio-medical Waste Treatment Facility and the recognized authorities are outlined in these regulations.
According to these regulations, every occupier or operator who handles bio-medical waste, regardless of the amount, must get permission from the appropriate specified body, i.e. the State Pollution Control Board or the Pollution Control Committee, as the case may be. These regulations are divided into four schedules and five forms.
Treatment and Disposal
Each class of HCW require specific treatment, however, in order to be pragmatic, it is advisable to distinguish three major classes polarizing around 90 % of the biomedical waste production. These major categories could be: ƒ
Waste sharps
Infectious and cytotoxic wastes; ƒ
Organic wastes (blood and body fluid wastes, human anatomical waste).
Every occupier of an institution generating, collecting, receiving, storing, transporting, treating, and /or handling Biomedical Waste shall apply on Form 1 for Authorization to the Board.
Every occupier/operator shall submit an annual report to the prescribed authority in Form11I by 31 January every year, to include information about the categories and quantities of bio-medical wastes handled during the proceeding year. The prescribed authority shall send this information in a compiled form to the Central Pollution Control board by 31 March every year.
Share this post?